Note to all: This is my old personal story trying to discover how eczemas work. Now that I know better, I suggest you follow the CURE PROTOCOL section of this website.
(First written May 2006) I am no stranger in the fight for my personal health due to some limitations of conventional medicine, the pharmaceutical industry and detrimental convenience / junk foods. Eczema on my face and ears 08 Aug 05
-Prior to this problem I had dealt with:
-cystic pimples
-sand fly bites
-unexplained viral illnesses
-an elevated heart beat rate being 30+ pounds overweight
-infertility
-my first son's skin allergies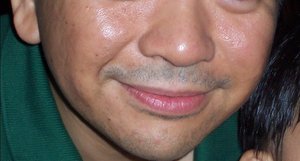 This website is a short 20 page online book chronicling my whole 3 year journey in curing my eczema. You heard that correctly, cure, I got well. My Face and Ears 24 March 2006 – No more eczema
Question: If I got well, how can I call my condition eczema?
Answer: I had 5 western medical doctors look at my condition. All of them told me it was eczema. All of them prescribed me steroids. None of them worked.
I made a promise in several support message boards that I will get well. And when I did I would share my knowledge with everybody.
Well this is it. An online book that will continuously be improved and viewed online by anyone. All copywrite belongs to me. Please do not copy. But you may provide a link to our pages.
If you are able to cure yourself as well, please share your knowledge. Make a website. Post on forums. Write down your experience and your eczema solution while your memory and emotions are still fresh! No one has to suffer eczema for the rest of his life.
Disclaimer
All accounts here are in my opinion truthful as they have applied to my personal health and well being. You are advised to read and learn from my scientific methods of analysis and decide which is best for you. Under no circumstances will I be responsible for your health. I am not your doctor. This website is meant for you to be able to open your mind enough to search for the truth about what really ails you and from there find your own cure.
— Edwin Casimero —

eesc@filipinowebservices.com