The new year 2007 started with a bang. My brother came to me to ask for help with his eczema which raged again for a second time with full body acne. It was horrible. I think the damage is much worse internally. No time to be afraid, push on we must. My brother is tired of being sick. He is mentally ready to do anything and everything to be finally well.

One must always be humble to learn even more. My brother's emergency led me to ask the help of the experts at Curezone.com. I posted identical messages in the Liver Flush Support and Ask Moreless forums.
Hello,
I'm helping my dearest younger brother with his full body eczema, psoriases, recurring full body acne. His whole body is charred ugly.
He is 26 years old. Was born and raised in a house fully stocked with brand new smelly Tires (the ones on your cars and trucks) + Lead casting machines.
He started his skin problems around 10 years old and had been stuffed with injections, steroids and all sorts of poisons by well meaning but ignorant MDs.
9 years ago he started using putting on Petroleum Jelly (vaseline) everyday for 8 years on his whole body to compensate for his skin dryness.
He went through a full body acne attack last May 2006 and with this he came to me for help as his MDs were all useless at this point (he finally realized it). I took him off the vaseline and he substituted a papaya based lotion. And with a 5 session colon hydrotherapy, his acne attack vanished. His skin was still rough, dry and itched.
This January he came back to me and had a recurrence of the full body acne. I finally convinced him to do the Liver Flushes … finally!
The acne raged further the morning after drinking his Extra Virgin Olive Oil. (toxins unleashed!) I gave him epson salts to flush out the stones.
My brother wound up expelling around 150++ ALL BLACK stones. (just yesterday)
I am happy for him but… I heard BLACK stones are the oldest and most toxic stones! But this is just flush #1 !!! And I also heard that it is quite possible that black stones are a sign of liver cirrhosis! Oh my!
My questions are:
#1 I'm fearing the worst, liver cirrhosis. Is it already the worst possible?
#2 How should we go about our flushing schedule? is every 2 weeks too aggressive?
#3 His kidney cleanse is ongoing, it is easy here, we have coconut juice everyday. His parasite cleanse capsules are not yet finished, just on his first week using VitaKlenz from australia.
#4 Any special diet or supplements for liver cirrhosis?
Thanks in advance!
I opened a new section in this website dedicated to my brother's path to wellness. Positive thinking! I will be documenting the steps we take as it happens.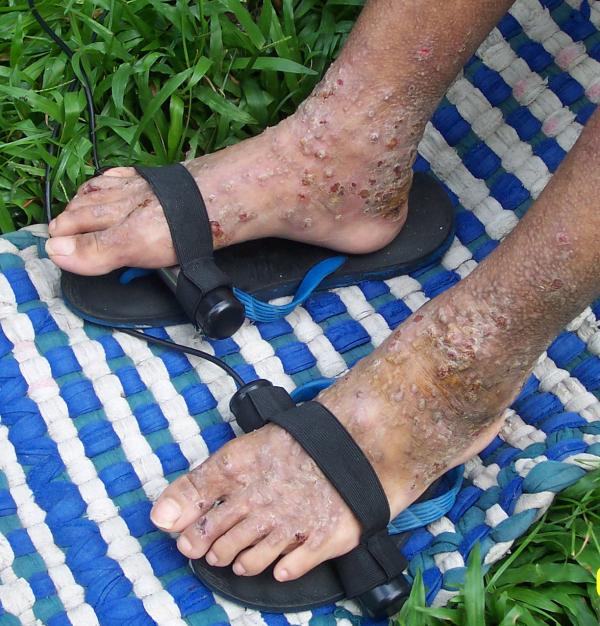 Bugoy Healing Crisis Toxin and Acid Release Full Body January 4, 2007