My wife and I had a fine lunch at the Pink Kitchen (a benefit food festival) at the Rockwell Tent. Highlight of the event for us was The Farm at San Benito. That was the real reason we were there. If we can't afford a live in retreat at The Farm, at least we can eat their food.

Pink Kitchen
a benefit food festival
2007 August 11 and 12 Saturday and Sunday
Rockwell Tent, Makati City
Entrance Donation: P200
Experience the country's top private and gourmet chefs whip up their signature dishes!
Now it says here in the ticket that this Pink Kitchen was made possible by "I Can Serve" (breast cancer awareness) and ABS-CBN Publishing Inc.
I am proud of my fellow Filipinos in the cancer awareness movement for inviting The Farm at San Benito to be one of the showcase gastronomic providers.
The Farm is a Hippocrates Health Resort of Asia. This is the high end, the most expensive REAL HEALING you can find in the Philippines today. Knockout competition for the NO HEALING, NO CURES common paradigm.
The Farm's Vegan menu was a smashing success. Visibly, they were the most popular booth in the event.
I smiled satisfied with a belly full of nutritious vegan fare today courtesy of the expert chefs at The Farm. I smiled knowing that here in the Philippines, operations such as the Hippocrates Wellness center are thriving and getting mainstream media attention.
The Farm at San Benito Menu
The Farm's Home-made crackers
Onion, carrot, curried, black & white sesame seeds, herb, garlic and
corn chips with tomato-papaya salsa, sprouted lentil hummus and
sesame cashew dip
Pistachio Crusted Tofu Sandwich with sweet chili sauce
Carrot and Cashew dumpling with sweet & sour mango
Stuffed Shiitake Mushroom with semi-sundried tomato, dill sauce & herb salad
Crunchy Almond Flax flatbread with black quinoa caviar
White Tomato Cream Soup
Organic Pasta Pesto
Chocolate and Vanilla dimsum/ Tropical Fruit Pizza
Don't you wish REAL HEALERS are given this much mainstream media mileage in your country?
More information about the Pink Kitchen from the I Can Serve website.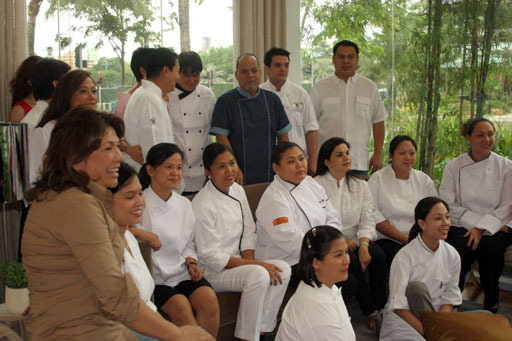 The Chefs of Pink Kitchen, a benefit Food Festival
If you are sick and you have the money, check yourself in at The Farm at San Benito: Center for Holistic Medicine, Spirituality and Living Foods until you are completely well.

Main Lagoon of The Farm at San Benito