Our feeble old grandmother called me up around 1:30 pm to fetch her from her sister's house in Fairview. She wanted to go to my house to administer freshly pounded turmeric on my brother's skin to help heal him faster.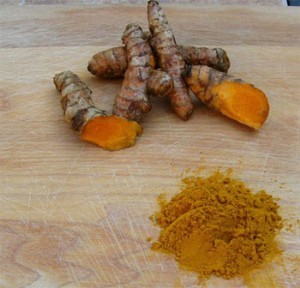 Turmeric: Photo from www.sallys-place.com
Great idea. The turmeric I have at home is just powdered. Fresh is always more powerful. You have to hand it to my grandmother, she is resourceful. When Manang Lorna the herbalist was here, she couldn't find fresh turmeric aka "luyang dilaw".
So this evening my grandmother, myself and my 2 boys were happily pounding away while waiting for Bugoy to arrive. He finally did around 8pm, fresh from a bath.
He reported to me that he feels great doing 2 steam baths per day. Yup, that's really the problem, plugged up / damaged sweat glands. Good for Bugoy.
Grandmother personally applied the freshly pounded turmeric on Bugoy's skin. Her strategy was to make snake like circles. She says this technique is done so that the germs won't spread. So the germs will be cornered in the middle.
Fine with me, I'm not complaining. I know this turmeric is good stuff, I just didn't know where to get the fresh ones.
I even made some turmeric tea with some of the freshly pounded stuff.
Finally around 9:30 my grandmother and Bugoy were off. Bugoy drove grandma back to her home.
The instructions left to Bugoy was to put on this freshly pounded turmeric juice on his whole body morning and night after baths.
Thanks grandma, we owe you this additional knowledge.