Orange juice fasting supplies the body with nutrients, lets the digestive system rest and lets the body concentrate its resources on healing.

I have to thank Mr. Joel Berry, the Barefoot Herbalist MH for introducing me to this concept. I enrolled a few months ago in his online school and it is only now that I have gotten to doing the orange juice fast. Maybe it was the need to cure my brother, maybe it is only now that my mind was ready.
Now my personal reason for continuing on with my personal research is for the health of my family. I'm sick and tired of being in meso-health just like the rest of the masses. Meso health is appearing to be "healthy" on the outside but inside there are things that tell you you are not robustly healthy. Most people are sick of something, easily get sick or something, afraid of getting sick of something. They have skin eruptions from time to time like pimples, herpes, slow healing wounds, no athletic vitality. The more I learned about health, the more people know I was a hobby healer, the more I realized how pitiful the conditions of my friends and family are.
This has to change. My brother has to heal over and above the crisis that he finished last september and october 2007. His unhealing wounds / eczema / psoriasis all over his body must be healed. The final stage and ultimate stage is to be a raw fruitarian / vegan, a raw foodist.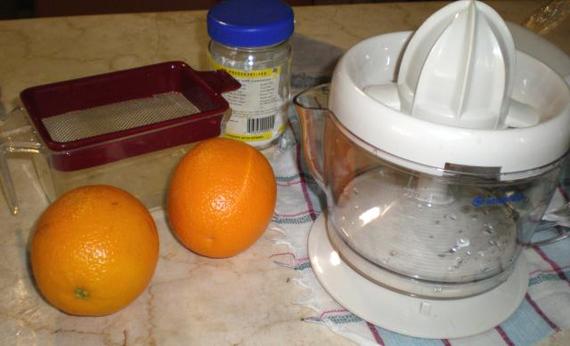 valencia oranges from south africa and my orange juicer
But before that, transitions must be made. The orange juice fast is a healing method. Successful for many thousands of cures. The orange juice fast will set in motion my brother's next stage of healing. We are on the offensive now. I'll have you know that we are on our 7th day of orange juice fasting today. My brother isn't perfect, he gives in to some cravings and cheats, he knows, but we continue on. I'm not cheating, I have to set the example, I'm with him all the way. What I want him to do I do it first and with him so I can relate to him. Prior to this fast I've already done apple juice fasts, vco and lemon juice detox / fasts, a 3 day orange juice fast. Now we are targeting a 14 day orange juice fast. 7 more days to go.
I love it. I find Orange juice fasting easy. Our difference here in Manila, Philippines is that our oranges are not organic, they are imported, from China (navel) or South Africa (valencia). We don't have home distillers, we have reverse osmosis water and much better, we have fresh coconut juice vendors all around the city. It would be safe for me to say that we are Orange Juice + Coconut Juice fasting. The coconut juice is natural distilled water.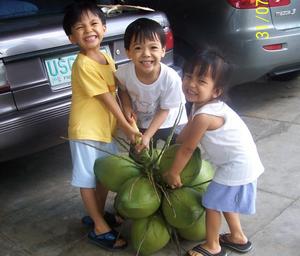 children happy to see coconuts brought home
Our colon cleansing agent is Dr. Tam's Miracle Tea. I ordered Barefoot Herbalist's LBB capsules, but it will take time to arrive as it is going to be hand carried by a friend. Barefoot does not ship overseas.
Results? Mine are those little wounds that take slowly to heal are healing and much faster. We recently had a flea and tick infestation. Nasty itchy stuff. The ends of my ear lobes would from time to time feel rough as if exuding some toxins, are just fine and dandy. I feel strong, active, alert and go through running my normal business (I run a web development company).
Bugoy says the first sign of his healing appear to be on his waist and his hands. He is not disciplined as I am. One time he ate fried peanuts and the other time he ate cooked fish. Sheesh, I told him if he was ever going to cheat, at least cheat with raw fruits!
So what is next after this 14 day orange juice fast? A mono diet of fruits. 1 meal a day. As coached by Barefoot Herbalist and taught in his Book 1. Dinner at say 6 to 7pm with 1 kind of fruit. Eat until full. Breakfast and morning, just fluids, juices, or if hungry, some fruit. You are effectively fasting for more than 18 hours each day. Your body continuously heals. And you are always eating RAW. Raw fruits. People were meant to be frugivores (more on this in another article I will write.)
I just hope Bugoy can do this. He feels well again he took on a new full time job and will start this November 21st! And I thought we had more healing time as neighbors until the end of this year. Sigh. I'm shaking my head in disbelief. If he slips up again and reverts to back to cooked food eating he will be fatally sick again and come rushing back again for help.
Learn more about orange juice fasting on www.barefootherbalistmh.com