My driver has eczema out of his 2 arms. The eczema, the itching, the oozing comes and goes. Almost everyday he is sick of something. The past week he had rashes all over his body and wanted useless hospital lab tests.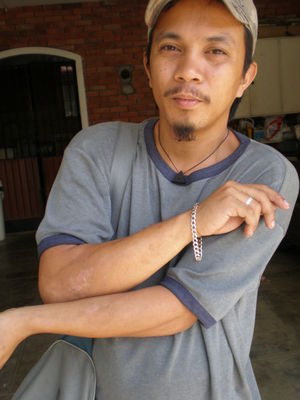 Alex shows shows off his healing eczema
I basically told him what to do and even gave him the materials he needed to help him cure his own eczema.
I gave him a 1/2 cup dose of Doctor Tam's Miracle Tea, we always have some in the refrigerator.
Then he plucked a couple of avocado leaves from our garden for his kidney cleanse.
Then I let him borrow The Cure for All Diseases book by Dr. Hulda Clark so he could follow the liver flush recipe on page 555. I gave him 1/2 bottle of extra virgin olive oil and a few tablespoons of epsom salts. I told him he should buy his own lemons. At least he has to spend for something.
So over the weekend after some coaching over the telephone he was finally able to do his very first liver flush.
The results? On Saturday he purged yellow stuff, maybe stuck up cholesterol. The following day he dumped black poop, black stones and smelly poop. The kind of smell that is old and rotten from deep within the liver. You veteran liver flushers know what I'm talking about.
He said he had some 100 black stones first then about 100 green stones next. He said Monday and Tuesday that he was still recovering from the liver flush. Got him weak in the knees. But it was obvious that his rashes disappeared and his eczema on his arms are receding.
He has the conviction to do a couple more liver flushes spaced 2 to 4 weeks apart. I told him he needs a change of diet too.
This guy's lucky he not only has a boss that pays him, but cures him as well.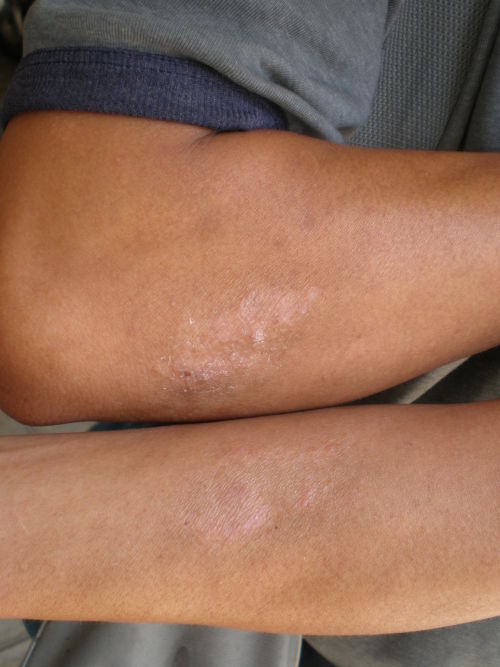 a close up shot of Alex's healing eczema on his 2 arms
Note: Alex says his eczema has been going on and off for 3 years already.