I was also busy the past few days not only treating my 4 year old boy of an eczema outbreak, but also remotely treating and saving our 98 year old grandfather in Butuan City from a sure death by hospital ineptness with a pneumonia diagnosis.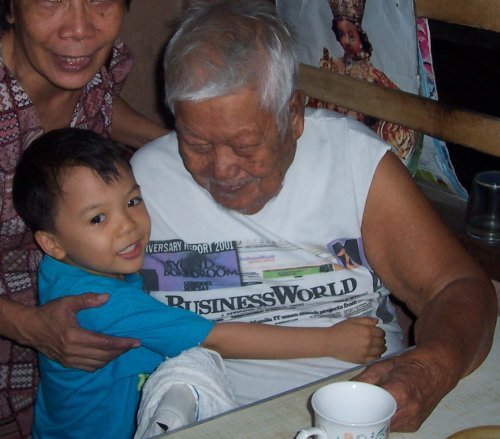 My boy and his great grand father 2 years ago, then 96 years old
I did this kind of saving before last year with my 88 year old grandmother. I sent my Auntie Portia to Butuan and she administered the colon cleanse on my pneumonia diagnosed grandmother in the hospital.
This time it was my 98 year old grandfather's turn. And I sent my Auntie Portia's son, my cousin and my driver Bingboy to save our grandfather. Bingboy knows colon cleansing, kidney cleansing and liver flushing. I coached him on those and he is happy to see his eczema cured and he feels light as a feather after ejecting more than 100 black liver stones.
Senior citizens, especially 88 year olds, 98 year olds and hospitals don't mix well together. That is always a bad combination. I am of the observation that hospital staff in this country think anyone over 70 who comes into their doors and diagnosed with pneumonia will need a miracle to get out of the hospital alive.
That was the attitude of my aunt who told me to save my cash (for a plane ticket to Butuan City) as my grandfather was diagnosed of pneumonia. As if the word pneumonia on a 98 year old was a death sentence.
Geezzz. All the more I rushed to come to his aid because that means they will be killing him with their "love" and "compassion". Mis-educated sentimental rubbish.
Instead of re-typing the whole ordeal, I'll just send you links to my health blog which documents the events that just transpired. This all happened really fast. In emergencies you have to act fast. Life or death.
Healing principles are the same, no matter the disease name given to your symptoms.
For further reading on how my 98 year old grandfather's recovery or death by pneumonia, see: