It is 7:45 am 17 October 2011 and my eczema riddled 10 year old son and I are at the beam ray anti parasite treatment office of Mr. Romy Macapagal and her daughter Aimee. Aimee turned on 3 programs for us this Monday session:
1. Fung_gen.bio
2. Worm_gen.bio
3. Candida3.bio
Immediately on turning on the machines, my son had itches on his left leg. This is a sign that we are hitting the pathogens in their mortality frequency. I believe we already ran the same programs last Saturday. Aimee says you cannot eliminate all of the pathogens in 1 session, especially candida.
This time, while waiting for several hours to pass, I had my son bring a book to read… Calvin and Hobbes. That will keep him entertained. Cannot use computers or video or androids while in the treatment room. So I'm typing outside.
Strict enforcement of raw paleo diet.
My children know that when it is crunch time, it is the enforcement of 100% raw paleo diet that will save the day. I am at fault, I had been soft. Now it is time to play hard and they better remember this and all the other cases of eczema cured, psoriasis cured, cancer cured, pneumonia cured people I had helped personally.
I re-read the cure stories in this web site and found interest in Luke of Poland with his detailed story. Must remember to feed my boy nutritious beef organs as well. Beef being the most non-allergenic of all foods in my treatment experience. Wife suspects eggs as allergens, so no eggs.
It must be a raw paleo diet, because every cooked item inserted in the mouth is condimented, corrupt, malnourishing, not digesting optimally. There is no such thing as benign / neutral food or drink.
This morning my son had coconut juice, 2 guavas, and we brought with us raw beef, raw fat, raw bone marrow… never frozen. Never frozen is important because the healer Aajonus Vonderplanitz reports eczema on people who eat exclusively frozen meats. Something is really lost to the freezing process… a lot.
Anthroposophic medicines. It's a complicated list, so my wife is in charge, but I will post the supplement schedule here. Taken 4x a day. See schedule below: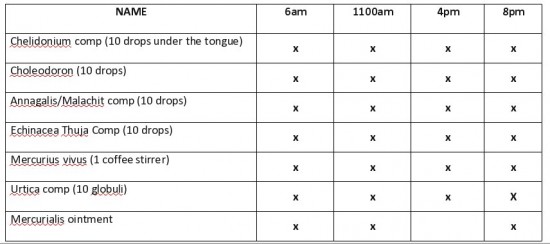 So this is how things go for the week October 17,2011 :
Anti-Parasite / Anti-Candida – Beam Ray / Frequency Generator
Nutrition – Raw Paleo Diet with organs
Supplements – Anthroposophic Medicines
Last night we resorted to steroids to allow our boy to stop feeling nerve pain. We will see if he still needs it tonight. But I doubt he will need it if we will comply with a 100% raw paleo diet.
I will be looking for beef heart later, and suitable fatty raw fish like blue marlin, tuna or malasugi or squid.
Wife does not want shell fish or eggs, she thinks they may have allergens, so we will respect that. I will just get the extra nutrients from raw beef and fish internal organs.